Looking After Orphans (Customers Whose Original Salesperson Has Left)
A company's salespeople come and go but let's make sure your clients don't leave with them.
Orphans are customers left stranded after the salesperson who introduced them to the organisation leaves. When/if the Orphans are reassigned to new salespeople, as there is no relationship between the newly assigned salesperson and the Orphan, the lapse rate is relatively high, and the ability to cross-sell or upsell product low.


Current market practice is that management usually sends Orphans to brand new or very established salespeople but don't know if they have actually taken any actions to engage with the Orphans. Are they looking after them properly? Are they being left unattended? Has the lead been re-orphaned when the new salesperson has left? Does the very established salesperson have the capacity or need for new clients? This all affects if the Orphans stay or leave.

So how does Value-Ad help you retain your Orphans?
Value-Ad has been managing Orphans for more than 10 years. We do this by driving the right salesperson behaviour.
Firstly care is taken in selecting the type of salesperson Orphans are assigned to – not too new and not too established, but the hungry salespeople in between. Next a small amount of leads are allocated to several of these type of salespeople based on matching rules such as geographical area, skills etc. Importantly more leads are only sent to a salesperson if they provide feedback on the actions they have taken. No feedback – no more Orphan leads wasted on that salesperson.
Our reporting allows the organisation's management to identify which salespeople are more active and also closing more sales; who needs training in key skills such as making appointments; as well as measuring and comparing team performances. All this results in increased retention of Orphans.
As seen below a Malaysian insurance organisation increased sales to 10,000 Orphans by more than 5% using Value-Ad's Smart Lead Management System.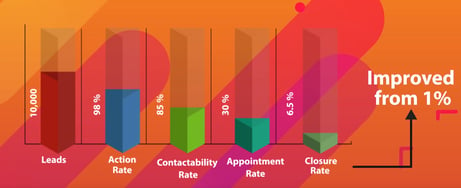 Statistic on a Malaysia Insurance Organisation
Interested to know how we can play a part to help you manage orphans?
Check out the video on how we manage orphans or schedule a quick 15 minute chat with Andrew, and let's find out if Value-Ad can help your business.