How Lead Management Drives Marketing ROI
The main goal of marketing is to supply quality leads that convert to sales.
So how is the best way to do this? In a nutshell, we have found that by using lead management to measure the quality, quantity and outcomes of different lead sources in real time, you are able to adjust and optimise your marketing strategies as required.
NB! Value-Ad doesn't generate or nurture leads for you, but through Smart Lead Management we manage the sales process from start to finish. How this helps specifically Marketers to optimise ROI on the leads they have generated is discussed below.
Key to our approach is that in our experience successful sales (and therefore also marketing ROI) are dependent on 3 things –
salesperson activity x salesperson skills x lead quality = number of sales
Marketing can't control salesperson activity or skill, but the salesperson with the best skills, working really hard, but with poor leads/not enough leads – will have a poor result. And conversely, the same, active star salesperson with good quality leads will have a great result.
Here are some of the ways that Smart Lead Management improves marketing ROI:
Collating the leads and Comparing lead sources – when all multi-channel generated leads are collected and managed the same way in the same place it is easy to measure lead sources against each other. This allows you to see where your marketing $$$ is best spent with regards to quality and quantity ROI. Lead sources we automatically collate include call for action and digital leads, data mining, maturities, partner referrals to mention just a few.
Reducing lead wastage – having spent a fortune in time and money generating leads I'm sure you want to be sure that they have a chance to be converted to a sale. However, some of the things we have seen going wrong that result in lead wastage include when leads are generated but not even collected or assigned to a salesperson, as well as swamping a salesperson with leads so that there is no way that they can get to them all. Different failure points need to be solved in different ways such as collating, assigning and managing leads automatically, working to realistic salesperson capacities as well as reassigning leads that have not been attended to.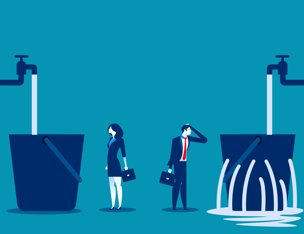 Real-Time ROI Insight into Campaign success – MIS dashboards show how many leads have been generated and assigned for each campaign/source, together with the number actioned, contactability rates and deals done etc. This helps to deliver valuable insights such as if the marketing message needs to be adjusted, whether campaigns are converting to sales, or if too many of the lead contact details are out of date for a particular lead source. Real-time insights that can be actioned to improve outcomes, but which often are usually only determined - if ever - once the campaign is well underway or over.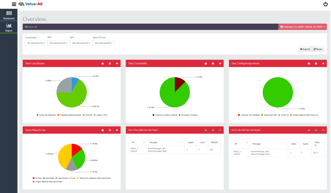 Reporting Dashboard
To end off, I hope that you are as excited as I am about how Smart Lead Management helps coordinate and drive all components in the marketing/sales process for a great Marketing ROI through coordinating
"sales activity x sales skill x lead quality = number of sales"
With Smart Lead Management Marketing ROI is quantified and driven in several ways to ensure constant improvement in sales outcome by collating lead sources; automatically assigning and not wasting leads that are managed; by making sure they get sales attention; together with real-time reporting insight.
Curious to know more about how we help you? Schedule a quick 15 minute chat with Andrew, and let's find out if Value-Ad can help your business.