Case Study: Survival of New Agents - How Value-Ad has increased the survival rate of new agents by more than 300%
Are your new agents struggling to survive? Are you looking for ways to help them succeed?
The turnover rate of new agents/salespeople in the insurance industry tends to be higher than in other professions with success rates usually below 10%, i.e. only 1 in 10 survive their first year. Reasons they fail include how hard it is to find a constant stream of new prospects, as well as how hard it is to take rejection day in and day out.

Our Client is a major player in the global insurance industry, and this Case Study is reporting on results from their Vietnam and Thailand operations where they found that their new agents have been more than 3x likely to survive their first year using our automated, digital Device Contacts program. A great result for the agents, their managers, recruiters, and the company! Please read on to see how.
Traditional Manual Process
The manual process that this company was using to onboard and train new agents was to start them off by creating a list of 100 people that they already knew that they could approach to sell to. This list was captured on Excel or even sometimes paper, and once compiled the agents would call the prospects to set up an appointment to see them.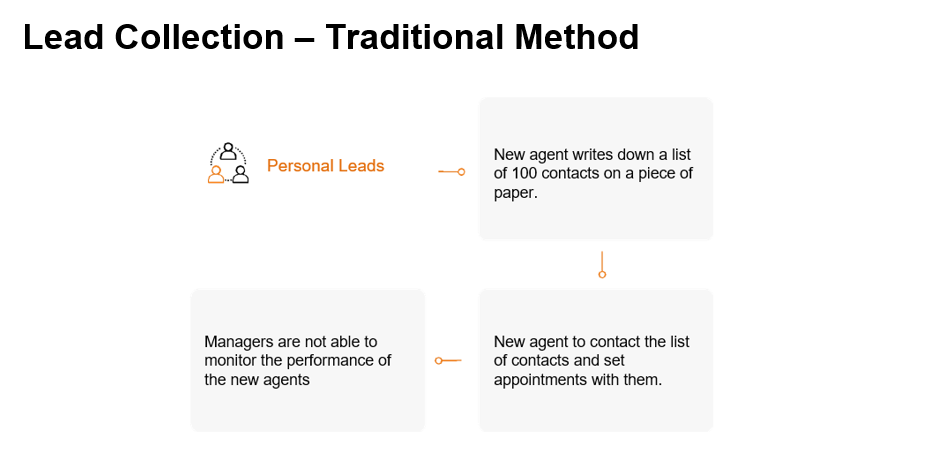 Unfortunately, the lack of transparency of this method makes it is difficult for the managers and trainers to monitor the performance of the new agents, resulting in these three main challenges that affect their survival:
Low Sales Activity


If the agent is not contacting enough prospects and taking them through the sales process, they won't make enough sales.
Lack of Calling and Closing Skills
Many new agents struggle to make appointments and/or struggle to close the deal when they get to go on those appointments.
Lack of Prospecting Skills
If the agents are not replacing the leads they use up as they go along, they run out of prospects and don't survive for long.
Having insight into each agent's activity, skills and prospecting would help the agents get an idea of how they are doing, as well as help the managers and trainers know when to step in to guide the new agents with the sales methods and techniques that they will be able to use in the long run - before it's too late.

So how does Value-Ad help solve these problems?

Solution: Digitalized Work Flow by Value-Ad
Value-Ad's Smart Lead Management System helps the agents follow an automated process that guides them through the sales stages, while monitoring their progress and creating transparency for managers and trainers so that they can step in and help as required, and at the right time.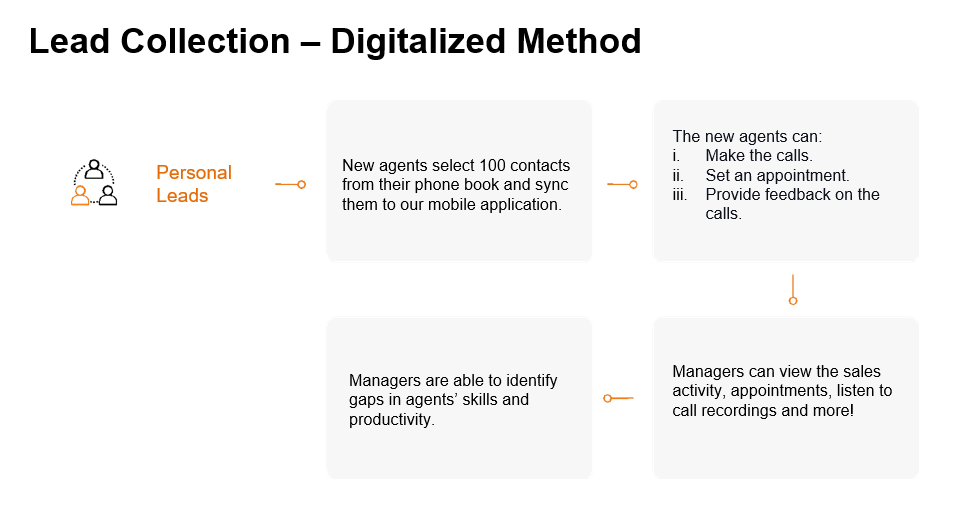 In the olden days, contacts were kept in a phone book or a Rolodex, but in today's world, our contacts are stored on our phones. The process to help agents survive starts with the agents downloading our mobile application that allows them to view their contacts and select the ones that they would like to approach. Just the selected contacts are submitted to the application which leads them through the sales process below.

Mobile Application
Once agents have selected the contacts they want to approach from their phone's contact list and synced them to the application, they follow the workflow selected that helps them make calls, send SMSs and emails to set appointments. Appointments made are stored in the agent's phone calendar with location and other details captured in the application too, so that all additional key information does not need to be stored elsewhere. Reminder notifications are sent before and after the appointments, to remind the agents to attend the appointment, and also for the agent to provide vital feedback on how it went, and the next steps.

All details regarding the contact, as well as all interactions with them, are now one click away.
Value-Ad's mobile application home page



Choose and sync contacts from your phone book
Provide feedback after contacting the prospect
Reporting Tools
All sales activity and feedback collected by the agent are available on our reporting dashboard allowing managers and trainers to identify gaps in the agents' skills, as well as potential activity issues. Data points include the number of appointments set-up, reasons for "no deals", and sales made. If the "call recording" option has been selected when the system is configured, the managers and trainers can listen to each agent's call recordings for insight into their telephone technique too.

Most importantly, the number of prospects available are also reported showing whether the agent needs help getting referrals so that they don't run out of prospects. Without prospects it is not possible to be active, make appointments or close deals, so being able to prospect is critical to agent survival.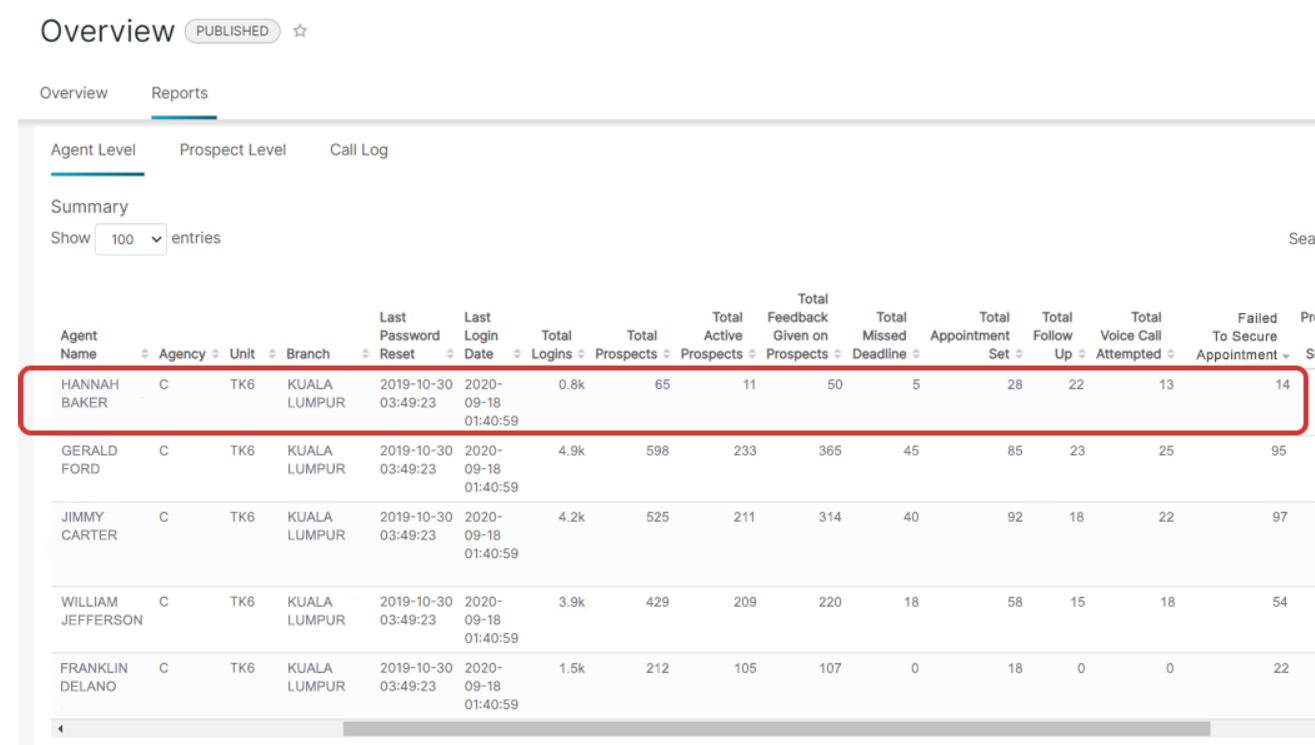 Example Summary Report

Value-Ad's 15 years plus of experience has shown us time and again that having insight into an agent's prospecting ability, activity and skills, helps more of them to survive. This enables managers and trainers to be able to provide the right help at the right time, as has once again been demonstrated with our Client increasing survival of their new agents more than 3x using our Digitised Device Contacts process.

Clients worldwide are using Value-Ad to help their new agents survive, while also generating thousands of policies in the process. We can help you too! Schedule a call with us now to find out more!